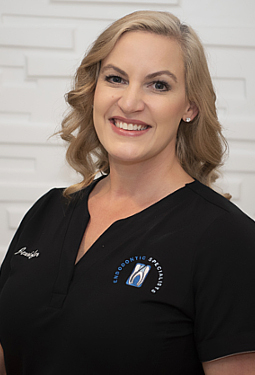 Jennifer
Office Manager
I am glad to be involved with our patients from the first phone call until their treatment is complete. It's fulfilling to be part of a practice that ensures every patient feels comfortable and receives the excellent care he or she deserves.
I have been in the dental field since 1998 and was certified in expanded duty dental assisting in 2000. In 2004, I found my professional home here at Endodontic Specialists, handling a wide range of duties. In addition to payroll, AP, and collections, I file insurance and follow up. In addition, I assist with surgical procedures when needed, and I answer the phones and schedule appointments.
In short, I do everything I can to ensure our patients and staff are well cared for. Dr. Morris is the best, by far, in this field, and so is our team. We all strive to give our patients the care and kindness we want for ourselves and our family members.
My husband and I have one son and are hoping for more one day. We both come from large families — I am one of six kids and he's one of five — so gatherings are always happening. I love traveling, outdoor activities, and anything involving friends and family.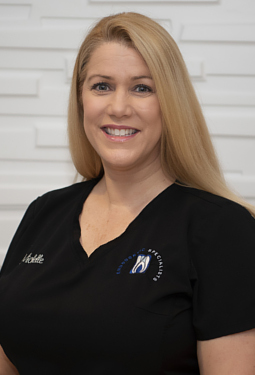 Michelle
Business Assistant, Marketing Manager
I love surprising patients with how awesome we are! It's rewarding to help patients feel better informed and more comfortable before and after their appointments.
I started in the dental field in 1996 and hold a master's in public health with an emphasis in communications and education. I joined Endodontic Specialists in 2003. I answer the phones, prepare patients for their visits, and answer questions about procedures, insurance, and basic dental information. I also set appointments, make financial arrangements, check patients in and out, process paperwork, and collect payments. Also, I handle external marketing and a variety of correspondence.
Beyond loving my work, I adore my husband Hector and our daughter Kelly. We love to travel and have been all over the world: five continents and counting! I also love going to the theater and especially love watching my daughter perform.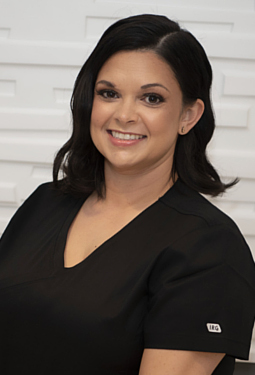 Claire
Dental Assistant
I like helping our patients understand the procedure beforehand and easing their fears and worries. I love assisting patients with saving their teeth and knowing they will feel better when they leave the office.
I started working in the dental field in 2011 and am certified for expanded duty dental assisting from LSU School of Dentistry. I have worked with Dr. Morris since 2014, offering patient care and chairside assistance. I also order our dental supplies and maintain our lab and operatory equipment. Dr. Morris is the best at what he does and up-front with our patients. He and our team have the same mindset: patient care is our top priority.
In my spare time, I enjoy quality time with my fiancé and two children. I also love to garden and enjoy going to concerts.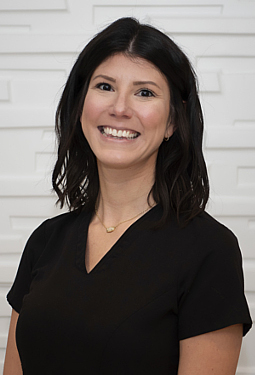 Amanda
Dental Assistant
I enjoy helping comfort patients with dental anxiety, or those in extreme discomfort. Dr. Morris is efficient, kind, and gentle: always explaining what will happen and making sure our patient is comfortable. That makes it easy for me to reassure everyone that they will be okay.
I have worked in the dental field since 2012 and joined Endodontic Specialists in 2017, to provide chairside assistance during various procedures. Our team is knowledgeable, considerate, and caring. We, and Dr. Morris, want everyone to feel safe and comfortable during their root canals.
Outside of work, I take my dog Atticus to the lake every day. I love trying new restaurants, my weekly girls' dinner, and trying new recipes. I also love to travel. In the past I've mostly visited tropical locations and now I'm working on seeing more rain forests and mountains.

Thank you so much for taking such great care of me! My tooth feels great! You all were just wonderful. Your office is beautiful. Your staff is efficient and pleasant. Now I know why all our patients return to our office raving about the excellent care they received in your office. Thanks again! Another happy patient!
- Debbie
Thank you for making me smile again. I put off having a root canal done as I was too scared! Well, the procedure was easier than having a cavity filled and I can now chew on that side again! Thanks for everything.
- Chrissy
I just want to tell you, thank you for being so patient with me the other day. I walked into your office quite scared and nervous; however, you reassured me that everything would be okay. Thank you so much. I am pain-free and it feels great.
- Brae